I am a student of computer science, but most of my knowledge comes from my diy projects. I am a jack of all trades kind of a guy; I have tinkered with low level stuff like add-ons and fpgas,
but I also worked with everything UE4 gaming engine, blender and other high level programs. I like creating visual things such as music visualizations, graphs and other more interactive ways of displaying data. This summer I will help improve the visualization capabilities of nodewatcher.
My project has two main branches, improvement of existing graphs and developing a brand new way to visualize used IP space of nodewatcher. Nodewatcher has many graphs and a lot of data to visualize. Understanding the data is hard without the proper representation. My knowledge of d3.js will help me create interactive, smooth and slick graphs that will help improve the nodewatcher presentation of node data. Creating more dynamic and visually appealing graphs is important and very useful, especially for new users who might get lost in the data.
My second contribution would be a brand new map of the used IP space. At this moment nodewatcher doesn't have any way to represent the IP pools that nodes are using. Looking at hundreds of subnets is hard to visualize and time consuming. This map would provide a way to show which space is already used and which isn't.  I have already made a small prototype visualizing the wlanslo IP pools (
https://amorpha.tnode.com/NodeMap/cidr.html
). It takes a while to load as it has to draw over 7 thousand subnets, but when it's done, you can clearly see which space is used and which isn't. The map also provides a way to zoom in on different subnets of wlanslovenia giving a better look into how they are composed.
Me, my sumbrero and I are read for the summer of code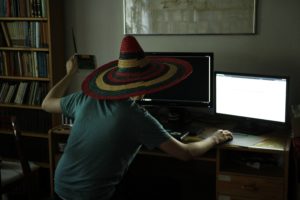 ——————————————————————————————————————————————————————————————————————————————————————————-
Sem študent računalništva, ampak večina mojega znanja prihaja iz mojih diy projektov. Sem "jack of all trades", zanimajo me vse stvari, od nizko nivojnega programiranja čipovja ter fpga-jev, vse do UE4 gaming engina, blender animacij ter drugih visoko nivojskih programskih problemov. Rad se ukvarjam z vizualizacijo podatkov, kot recimo vizualizacije glasbe, grafov in drugih interaktivnih načinov prikazovanja podatkov. To poletje bom pomagal z izboljšanjem načinov prikazovanja podatkov, ki jih ima nodewatcher.
Moj projekt ima dva glavna taska; Eden je izboljšava že obstoječih grafov, drugi projekt pa je narediti čisto novi način prikazovanja uporabljenega ip prostora v nodewatcherju. Nodewatcher vsebuje dosti grafov a le ti bi lahko bili izboljšani. Podatke je težko razumeti, brez pravilne reprezentacije. Moje znanje d3.js mi bo pomagalo narediti interaktivne, responsive grafe ki bodo izboljšali prikazovanje podatkov. Izboljšanje grafov je zelo pomembno saj ljudje, ki prvič odprejo nodewatcher težko razberejo vse podatke in se lahko zgubijo, če ti niso pravilno prikazani.
Moj drugi del, bo čisto nova mapa na kateri bo narisana proaba ip prostora. Do zdaj ni bilo dobenega načina kako si predstavljati ip pools, ki jih nodi uporabljajo. Gledati po stotine subnetov v tekstovni obliki je zahtevno in zelo težko. Ta mapa bo prikazala kateri prostor je že uporabljen in kateri je še prost. Naredil sem majhen prototip, ki prikaže wlanslo ip prostor (
https://amorpha.tnode.com/NodeMap/cidr.html
). Traja kar dolgo da se izriše saj obstaja preko 7 tistoč subnetov, ampak ob koncu lahko vidimo kako je ip prostor uporabljen. Ta prototip vsebuje tudi wlanslo subnete na katere lahko približate tako da lahko vidite hirarhijo dela omrežja.
Jaz ter moj sumbrero sma pripravljena na poletje kodiranja.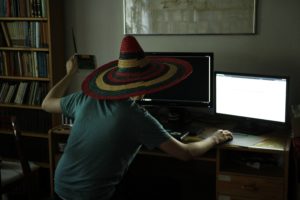 Der Beitrag Summer of code: Week 1 erschien zuerst auf Freifunkblog.